Fr Michael Collins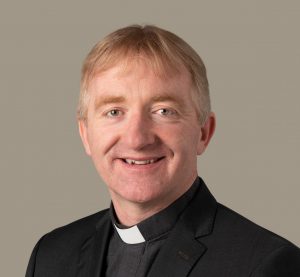 Parish Priest
Parochial House,
19 Goodwood,
Newmarket-on-Fergus,
Co. Clare
Tel: +35361700883
Mobile: 087 638 9847
Email:
m.collins@killaloediocese.ie
Michael Collins is a priest of the Diocese of Killaloe. He was ordained on the 4th of June 2000. Following his ordination he completed his STL studies in the Pontifical University at Maynooth.
His first pastoral appointment was as Chaplain in Tulla Secondary School and Scariff Community College. During this time he also administered the Parish of Killanena. In 2005 he was appointed Curate to the Parish of Kilrush and as a representative on the Killaloe Diocesan Pastoral Council. In 2009 he was given additional responsibilities as Moderator of a cluster of 9 parishes in West Clare.
He was appointed as Director of Formation on 1st September 2011. On 1st October 2021 he begins his new appointment as Parish Priest of Newmarket, Carrigerry and the Wells.
Mary Power
Parish Office Hours
Monday, Tuesday, Wednesday & Friday: 10.00 am – 2.30 pm
Closed on Thursday
Sacristans
Our Lady of the Rosary: Bridget O'Halloran – 061 368682
Our Lady of the Wells : Mary Barron – 061 364643
St Conaire's, Carrigerry: Bernadette Glynn – 061 368491